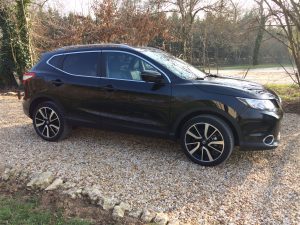 On a recent trip to France I hired a top-spec Nissan Qashqai 1.5 dCi. Basically a family hatchback on stilts, the Qashqai has been a sales phenomenon in the UK.
This one had pretty much every possible optional extra – panoramic sunroof, sat nav, heated leather seats, bird's-eye view camera, 19″ wheels and much, much more.
This is seemingly a new strategy for hire car firms / manufacturers. Rather than your hire car being "poverty-spec", car companies are providing high spec cars to advertise their wares to the consumer. I guess the hope is that the hirer will think, "Wow, this is nice, better than I thought….I'd quite like one of these!"
I was extremely impressed. It sipped fuel incredibly slowly. It has a claimed 74 mpg and I can believe it.
I can see why these cars have sold so well – I liked the high up view out, although the height does negatively affect the handling, and the small Nissan was very easy to drive with all the controls feeling light and well damped. The manual gearbox was also easy to use, with a light but positive action.
It felt very well screwed together too and as if it would last for a very long time before going wrong / starting to rattle inside.
It was, however, with closer inspection, clear to see that this was a relatively cheaply-made car uplifted by lots of leather and toys. Some of the plastics in the cabin, particularly lower down, were of questionable quality and reminded me that this a car built to a price and very much with volume sales in mind. I haven't specced up a Qashqai to this level on Nissan's website yet, but I can imagine this level of equipment would make for a pretty expensive new purchase considering the car that you will be getting underneath all the bells and whistles.
However, if you can wait a while and pick up an ex-hire car version of one of these latest Qashqais, you will undoubtedly get yourself a high spec, bargain family car which will have been regularly serviced, maintained and cleaned even if it is slightly above average mileage.
So long as you don't want a sporty family car and just have practical, reliable and frugal family motoring at the top of your wish list, one of these could be the car for you. You won't be alone!