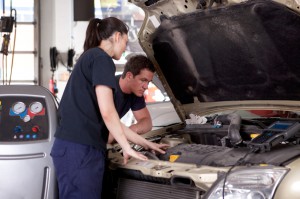 Faults outside warranty are understandably frustrating. However, provided a car has been serviced and repaired by a main dealer, the car company involved will often be prepared to assist with the cost of a repair that falls outside warranty.
For example, when the steering rack of a 5 year-old VW Golf GTI failed, resulting in a required replacement at £1200, I persuaded VW UK and the dealer to pay for 90% of the repair, leaving the customer to pay only £120. I have achieved similar success with several other cars outside warranty. If your car needs a costly repair, and your car is under five years old (or within 2 years of your warranty expiring), please contact me, and I'll do all I can to help you negotiate a discount.
Smart repairs are those that do not require a visit to a bodyshop. Typically they might be used for parking scratches, or other repairs to small areas of paintwork. There are several companies that will do this for you. As with everything, results vary. If you need advice about this sort of repair, I can recommend reliable companies in the Bristol and surrounding areas. If you are further afield, do still contact me for advice.
Small dents, alloy wheel curbing, pothole damage to wheels and other, more serious, accident damage can also be catered for through local companies with whom I have built up a trusting relationship.