I recently drove these two back-to-back in France. It was very interesting and revealing to compare them.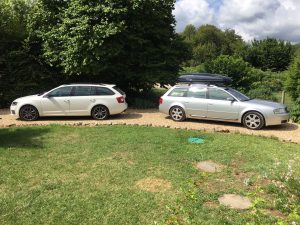 The Skoda (the one on the left in the photograph above) is a 2014, Octavia estate with a 2 litre in-line 4-cylinder petrol turbo delivering 217 bhp, 258 lb ft of torque and with front wheel drive. It has a dual-clutch semi-automatic transmission. Performance figures are quoted as 0-60 in 6.9 seconds, top speed, 150 mph.
The Audi is a 2002, S6 Avant with a 4.2 litre V8 naturally aspirated petrol delivering 340 bhp, 310 lb ft and with four wheel drive. It has a torque converter automatic gearbox. 0-60 in 6.3 seconds, top speed, 155 mph.
So, not a lot in it on paper, but these were designed as quite different cars.
The Audi was a top spec (apart from the truly ballistic RS6), premium brand, luxury sports estate with full leather seats, satellite navigation, Bose sounds and much more. It was from £47,800 new in 2002.
The Skoda, built on the same chassis as the Mk7 Golf and sharing key components with the GTI, is derived from the 'perceived-as-budget' Octavia estate. It is arguable whether Skodas are quite the bargain they once were and the Octavia is not considered a premium vehicle. The larger Skoda Superb, however, is badged as premium or executive class by some publications now. The car tested here was from about £25,000 new in 2014, although this one has a few expensive options, including the top-spec Columbus infotainment system (£800) and a panoramic sunroof (£900 – both 2014 prices).  Despite options, it's a much cheaper car than the Audi which would be closer to £60,000 to buy in today's money.
First Impressions
In basic terms the Audi feels very well screwed together even after 15 years. It feels more solid and heavier than the Skoda, which it is. It feels extremely comfortable and very much the luxury continent-crossing barge that it is. The leather seats are comfortable and electrically adjustable in every possible direction. In this model the infotainment has been switched for a modern Pioneer unit with navigation, multiple audio settings and DAB radio – these complement the Bose sub-woofer and speakers very well. The original square-screened navigation system was archaic by today's standards.
In comparison the Skoda feels lighter (more nimble) and less solid.  But it still feels very well put together and totally rattle-free. The quality of the fixtures and fittings and the touch points in the Skoda feels as good as the Audi too, but this is no doubt due to the 15 years between them. The Skoda is a very nice place to be inside, but modern Audis are renowned for having absolutely fabulous interiors, so today's probably isn't a fair comparison.
Engine
The Audi has a fabulous, sonorous V8 which the Skoda will never compete with. It rumbles at low speeds, and roars and howls at higher revs. One word, fabulous.
The Skoda's 4 cylinder engine is pretty quiet in comparison. Deeper engine notes are piped into the cabin via a sound actuator – I really like this sound, especially in sports mode – but the jury is out on whether this is the right way to go, despite many manufacturers now doing this to make their cars sound better to the driver.
Driving
In respect of pulling-power, there feels very little between the cars. The Audi is much heavier and power-to-weight is all important here, but the Skoda also feels quicker to respond to your right foot. This is no doubt, in part, due to the torque available at low revs from a turbo-charged engine.
From a standstill, particularly on greasy roads, the Audi's 4WD does help it get away off the line very well, but I'd wager the vRS would be even quicker to get away if it too had four driven wheels.
Once the big V8 in the Audi gets up to speed though, my God it pulls hard.  I'm sure it could leave the Skoda for dead accelerating between 60 and 80 mph.
When it comes to corners, the Skoda probably has the better of the heavy Audi, certainly in the dry.  However, driving out of wet corners or pulling away from junctions in the damp, the Audi's 4WD again gives it the edge.  Both cars tested were on good quality newish tyres which meant that the comparison was fair in that respect.
The two automatic gearboxes are quite different. The Audi's is a torque-converter automatic and you can tell it is 15 years' old. The changes are slow by modern standards – but this arguably suits the car's touring character. The Skoda has a lightening-quick dual-clutch transmission which has to be felt to be believed. At parking speeds it can be a little jerky, but you soon learn to drive round that. Once up to speed, the changes are barely perceptible, sometimes only the rev counter dropping down telling you that the car has changed up a gear. Clever stuff. The Skoda also has gear change paddles on the steering wheel so you can take complete control of which gear you are in if you wish. This is particularly useful if pressing on in sports mode.
Talking of modes, the Skoda has four – eco, normal, sport and individual. These tailor the throttle response, steering weight and gear change mapping depending on how you want to drive the car. Individual is as it sounds, allowing you to have sportier gear changes but lighter steering if you wish, for example. Certainly in the sport setting, the car feels very quick and the throttle response, in particular, is very keen. The sound actuator is turned up in this mode too, making the car sound very sporty.
Verdict
But sound, real sound, is where the Audi excels. I go back to the V8 – it sounds amazing. Apart from that, the Skoda wins for me in every other department. But, this isn't a surprise given the passage of time.  No doubt a £60k 2014 Audi S6 would beat the Skoda in every area, apart from, perhaps, fuel economy, but that's why the comparison here of 2002 vs 2014 was so interesting. It shows very clearly how things have moved on in the automotive world in such a relatively short space of time.
With Audi set to announce a hybrid petrol-electric drivetrain for its RS7 super-saloon anytime now, this rapid progress shows no sign of abating anytime soon.
2014 Octavia vRS vs 2002 Audi S6 – New vs Old